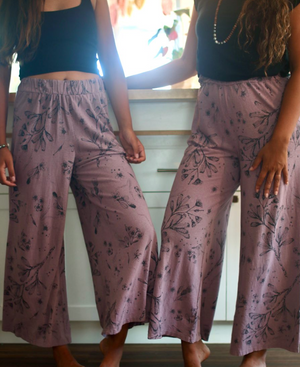 Nohoanu | Wide Leg Lounge Pant - mauve
Sale price Price $80.00 Regular price
100% Organic Cotton | Elastic waistband | Wide-leg Bottom | Designed in Hawaii | Made in the USA
| | | | |
| --- | --- | --- | --- |
| Wide Leg Lounge Pant | Pūhaka | Kīkala | |
| | Waist | Hips | Inseam |
| XS | 24" | 38" | 28" |
| S | 26" | 40" | 27" |
| M | 27" | 42 | 28" |
| L | 30" | 44" | 29" |
| XL | 31" | 46" | 30" |
| 2XL | 32" | 48" | 29" |
Nohoanu
The higher a mountain is, the more perspective it offers and the more opportunities there are for uniqueness to spring up. Take Haleakalā, for example. At 7,000 ft., stunning vistas of distant mountains and deep arching bays spread out toward the west. Turn 180 degrees and the rest of this 10,000+ foot volcano rises steep before you. The air is clean and crisp up this high and beautiful native plants abound. In this transition zone between barren rock and rainforest, rainfall is not very abundant, so Lilinoe, goddess of the mist, nourishes these plants with her mist and fog. Amidst species such as pūkiawe, ʻaʻaliʻi, ʻōhelo and māmane, you will find the plant honored in this design: nohoanu (a.k.a. hinahina, Geranium cuneatum subsp. tridens). Its small white blossoms twinkle like stars. Its leaves are pale moonlight silver (an adaptation unique to high elevation plants), covered in fine silky hairs and tipped with three small teeth (tridens means "three teeth" in Latin). This lofty height is the only place in the world this species grows, but other species of Hawaiian geraniums can be found on the tall mountains of Hawaiʻi and Kauaʻi. There are 6 endemic species total, all bearing the name nohoanu.
He uʻi māhinahina - A pale moonlight beauty.
He ʻai ko uka, he iʻa ko kai, ua kūʻonoʻono nō ka nohona - There is kalo on land and other foods in the ocean, the lifestyle is comfortable and prosperous.