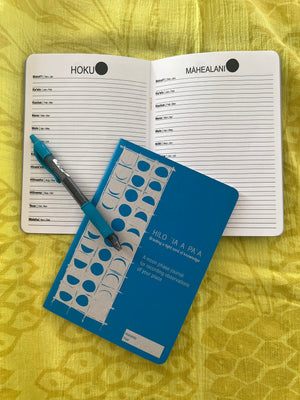 Hilo ʻIa A Paʻa | Moon Phase Journal - electric blue - ALL SALES FINAL
Sale price Price $11.50 Regular price
Hilo ʻia a paʻa - Braiding a tight cord of knowledge.
A moon phase journal for recording observations. This is a journal for many purposes! Farmers, fishermen, way-finders, mothers, chefs, gardeners, writers - all will find a home here for observations relevant to their daily lives, which are affected by the cycle of the moon. You can begin using this journal at any point in the year. Each page features a single moon phase with a small space for observations for every malama of the year beginning with Makaliʻi and ending with ʻIkuā. Also, join in on The Moon Phase Project. It's a sharing platform designed for journal users to share & compare daily phase observations. Follow at www.moonphaseproject.com or via Facebook and Instagram for help getting on track with the journal, an excellent reference is the Kaulana Mahina Calendar by Kalei Nuʻuhiwa.  www.aimalama.org/resources
E NANEA I KE KILO MALAMA!