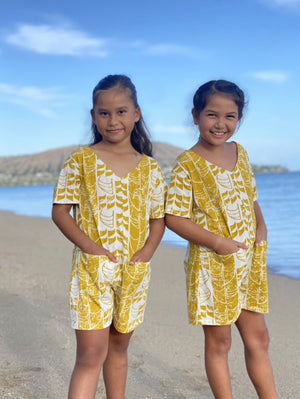 Ka Wa'a Kaulua | 'Ōpio Romper - white
Sale price Price $68.00 Regular price
100% organic cotton | 'Ōpio Sizing | Button Closure on Back | Front Pockets | Designed in Hawai'i | Made in the USA
| | | | | | | |
| --- | --- | --- | --- | --- | --- | --- |
| Romper | Kihi Po'ohiwi | Umauma | Kīkala | Uala | Lō'ihi | Kuʻina o waena |
| Wa'a | Shoulders | Chest | Hip | Bicep | Back Length | Inseam |
| XS  | 15" | 32" | 33" | 11" | 22" | 3" |
| S  | 16.5" | 33" | 34" | 12" | 23" | 3" |
| M  | 17" | 35" | 37" | 12" | 24" | 3" |
| L  | 18" | 37" | 38" | 13" | 25" | 3" |
 Models are 8 years old and are wearing an XS. 
Ka Wa'a Kaulua
E ʻole ia mea he waʻa kaulua, hōʻea mai ai ko kākou poʻe kūpuna i nei mau mokupuni ʻoi kelakela o ka nani, kahi hoʻi o ko kākou hoʻoheno ʻana i nā kaha a pau loa mai Kumukahi a hiki aku i Lehua. Lehia nō hoʻi nā paʻa moʻolelo a me nā haku mele ma ka hoʻopaʻa ʻana i nā ʻano ʻike like ʻole no ka hiki ʻana mai o nā akua, nā kupua, a me nā kānaka. No Kahiki mai ʻo Pele, mai ka ʻākau mai nō naʻe, me ona pōkiʻi aloha he nui, a ua helu papa ʻia nā ʻāina a lākou i ʻike aku ai mai Nīhoa a hiki i Hawaiʻi. Pēlā ka loaʻa ʻana mai o nā lua Pele ma nā mokupuni a pau, a no laila na ka waʻa o Pele ka ʻāina hou, ke kumu paha o kekahi manaʻo o waʻa: he kahena pele nui e holo wale ana i kai. Mai ka hema mai ka holo ʻana mai o Pāʻao mā, me ka lawe pū mai i nā mea hou i Hawaiʻi nei. Pēlā pū ʻo Mōʻīkeha a me kāna keiki, ʻo Laʻamaikahiki, nāna mai ke kāʻekeʻeke a me kekahi mau ʻano hula. Kaulana lāua me kona kaikaina, me Kila, i ka holo moana ʻana. ʻAʻole lā he hiki mai a noho paʻa wale nō. He holo aku holo mai ka hana a ua mau kūpuna nei. Mai ka ʻākau mai, mai ka hema mai nō paha, ʻo kahi mea ʻike mau ʻia, ʻo ia ka hoʻonoho ʻia aku o nā lālā ʻohana ma nā wahi he nui, a pēlā nō i kapa ʻia ai nā inoa ʻāina he nui wale mai Hawaiʻi a Niʻihau. Na ka waʻa kaulua nā nani he nui.
The waʻa kaulua defines our origins as Hawaiian people. Chiefess Luʻukia voyaged with her husband ʻOlopana to Tahiti and took chief Mōʻīkeha as a punalua (second husband). After hearing a false rumor that Mōʻīkeha had publicly insulted her womanly parts, she bound herself in cordage, navel to mid thighs, never sharing herself with him again. This lashing, ka pāʻū o Luʻukia (Luʻukia's skirt), is used on canoes and water gourds to this day. Heartbroken, Mōʻīkeha sailed to Hawaiʻi. His sons Laʻamaikahiki and Kila made multiple trips between the two island groups. Laʻa brought the kāʻekeʻeke and certain hula to Hawaiʻi. The voyages of our ancestors shaped our practices, relationships, and genealogies. Relationships are still central to voyaging. During Makaliʻi's recent voyage to Nīhoa and Mokumanamana, this ʻohana strengthened their relationship to ʻāina (that which sustains) by provisioning their canoe entirely with food grown and caught in Hawaiʻi. Through oli (chant) and protocol they strengthened their relationships to the elements and those they petitioned for guidance and protection. We dedicate this design to them and to our dear friend Dean Kealoha Hoe, a voyager whose generosity and aloha lives on in all those whose lives he touched. E ola!