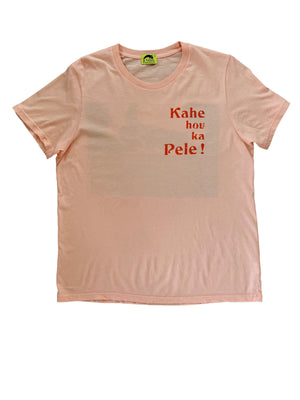 Kahe hou ka Pele | Wahine Tee - light coral
Sale price Price $48.00 Regular price
100% Organic cotton | Women's/Wahine tee | Designed in Hawaiʻi nei | Made in the USA
| | | | | |
| --- | --- | --- | --- | --- |
| | Kihi Po'ohiwi | Umauma | Lō'ihi | Uala |
| Wahine tee | Shoulders | Chest | Back length | Bicep |
| XS | 14" | 38" | 22.5" | 14" |
| S | 15" | 40" | 23" | 14" |
| M | 16" | 42" | 23.5" | 14" |
| L | 17" | 44" | 24" | 15" |
| XL | 18" | 46" | 24.5" | 15" |
| 2XL | 19" | 48" | 25" | 16" |
| 3XL | 20" | 50" | 26" | 17" |
The Fires of Pele Atop Mauna Loa (2022)
Honoring akua Hawai'i still survives today in some 'ohana, despite the many challenges of history, although each generation may do it a little differently, as loina (cultural norms) must evolve to suit the times, or practices cease entirely. For collaborating artist Pualani Lincoln Maielua, paying homage to Pele has grown from seeds planted by her kūpuna, who would regularly go to Kīlauea in the evenings with pila (stringed instruments) to offer song and aloha to this akua until sunrise. From those seeds, Pua has nurtured her own kumu (tree) that has flourished in the recovery of 'ike Hawai'i (Hawaiian knowledge) made possible by the perseverance and bravery of those before us. Cleaning yard, offering 'awa, and recounting the many stories of this akua to her own children are some of the ways she honors Pele, but all of them took on new gravity during the Mauna Loa eruption of 2022. It was the first time in Pua's life that Pele returned to Moku'āweoweo, gracing the slopes of Mauna Loa in a display so spectacular that words fail to capture what she experienced, a sight that many of her own kūpuna before her have seen. Awe, reverence, and aloha all apply to the moment when she first beheld Pele's towering fountains, but connecting to her kūpuna through a shared experience and understanding is one of the most powerful outcomes of that time. It cemented an understanding of what it really means to live in the home of this akua wahine who can decide to create new land anytime she chooses. 
Nā Ahi Pele I Luna O Mauna Loa!
'O Pele lā ko'u akua, miha ka lani, miha ka honua....

He kūpono paha ka ho'opili 'ana i kēia mau lālani mele mīkololohua i ka wā mua e 'ike e 'ike maka aku ai ke kanaka i kona akua, iā Pele ho'i. Ia wā, he ilihia nui launa'ole e lalawe ana i ke kino a paulehua wale ka mana'o. 'Ano'ai paha, he manawa pōkole e mū ai nā leo a pua, e kuli iki ai paha ka pepeiao, e miha ai ho'i ka lani me ka honua. I loko nō o ia mau sekona lanalana, 'o ke akua wale nō ia, 'a'ohe mea 'ē aku, a lilo paha a'e ka 'ike o ke kanaka iā ia, i kona u'i 'ena'ena 'ihi'ihi nui wale e malule iki ai ke kino. Pēlā ho'i ka wehewehe 'ana mai o ka mea nāna i pa'i i ke ki'i i ho'olilo 'ia i ka lau e kau ana ma nei pālule. Kane a'ela ke kelepona i ka pili aumoe a 'o ka leo nō ia o ka makamaka e ho'omaopopo mai ana iā ia e puka koke aku i waho e nānā ai. I ho'okō aku ka hana, pohā ana kona lae i ka pahū 'ana a'e o ka 'ula la'a lā i luna, ke kino āiwaiwa ho'i o Pele e lalalapa a'e ana, e hula le'a ana i ka lewa. Pili pū ka hanu o nei wahine i ka 'ike 'ana i ka mea like a kona mau kūpuna i 'ike ai, ka mea ho'i a nā haku mele o ka wā kahiko i ho'ohanohano aku ai nō ho'i ma kā lākou mau mele kaulana no ka wahine i ka maka o ke ahi. 'Akahi nō a 'ike maopopo pono i ua wahine nei ka nani o kona akua, he 'ikena ho'i e holo ai ka lālani mele: E pele ē, hua'ina ho'i!